Homage to Enrico Caruso (25/02/1873 - 02/08/1921)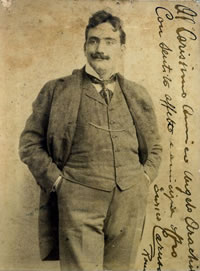 This is a non-profit homepage created as a post mortem tribute to the legendary Neapolitan singer and opera star Enrico Caruso who, with his voice, empathy, charisma and gramophone recordings, contributed to making opera known and loved in the world in the beginning of the past century.
When I say non-profit website, that's exactly what this is: No banners, no selling, no adds, no fees, no links that I make money on when clicked, no hidden agenda.

So why on earth spend hundred of hours, as I have, developing this site? Very simple... I want to share the beauty of Caruso's singing with others!
Share more
Would you like view additional information, download music, comment or upload related music, you want to share with others? Then join/register here - no strings attached!
Click above to listen to:
"La danza (the dance) - in Tarantella Napolitana time"
(Petite Messe Solennelle - Rossini, Gioacchino )
• Recorded 13-02-1912 •
... MODERN ORCHESTRATION ...
More information here
Caruso's Music
Until now I have uploaded 328 arias/songs (partly in different versions). View/listen to them here.
Random Quote (view all here)
Caruso about his performance:
"I know that I shall sing only a certain number of times. So I think to myself, "Tonight I will hold back my voice. I will save it a little and that will mean I may be able to sing a few more times." But when I go before the audience, when I hear the music and begin to sing, I cannot hold back. I give the best there is in me - I give all."