Biography Part IV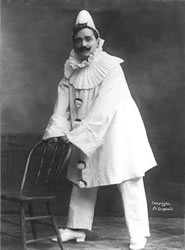 Caruso was the first gramophone star to sell more a million copies with his 1907 recording of 'Vesti le giubba' from 'Pagliacci' by Ruggero Leoncavallo.
While he was alive the Victor Talking Machine Company paid him around 2 million dollars for his recordings. After his death his estate has received more than 2 billion dollars in royalties.
The famous film from 1951 "The Great Caruso" with Mario Lanza has probably contributed to these royalties, but many arias have been used in films - e.g. the legendary recording from 1904 of 'Una furtiva lagrima' from L'elisir d'amore.
In 1921 - after years of failing health - Caruso travelled back to his hometown of Neaples with his wife Dorothy (whom he had married three years earlier) and their daughter Gloria - View video here. Here he died on Tuesday, the 2nd of August 1921, just 48 years old, from complications accompanying a serious pleurisy.
The Italian King Victor Emmanuel III offered to have Caruso buried at The Church of San Francesco di Paola in Neaples which otherwise was reserved for the royal family. And there he was laid to rest on the 19th of August as the king his was - the King of Tenors.
The city of Neaples stopped in its tracks, all over flags were flown at half-mast and signs with "LUTTO PER CARUSO" (MOURNING FOR CARUSO) had been hung up in the windows of the closed shops.
Click above to listen to:
"Ideale"
(Song in Italian - Tosti, Paolo)
• Recorded 30-12-1906 •
... MODERN ORCHESTRATION ...
More information here
Random Quote (view all here)
"When you speak of tenors, you have to divide them into two groups. Caruso in the first group. All the others are in the second."