The Caricaturist
Caruso was a skilled caricaturist.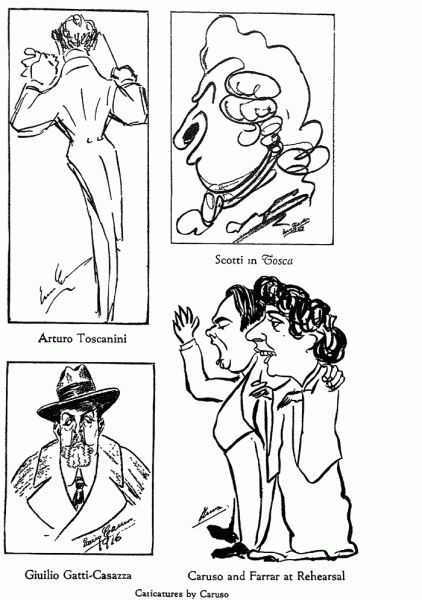 Click above to listen to:
"Questa o quella"
(Rigoletto - Verdi, Giuseppe)
• Recorded 16-03-1908 •
... MODERN ORCHESTRATION ...
More information here
Random Quote (view all here)
Caruso about Nellie Melba and Melba about Caruso:
Not a quote but an action. The Australian soprano Nellie Melba was notorius for her ruthlessness and coldness. Performing with her in La Bohème Caruso, as a joke, pressed a hot sausage into her hand that he'd hidden in his pocket as he sang "Che gelida manina, se la lasci riscaldar."("What a cold little hand, let me warm it"). She had considered Caruso coarse and uncultivated and this, of course, only confirmed that ...
Melba, however, was impressed with Caruso's voice and wrote in her autobiography (Melodies and Memories): "As a voice - pure and simple - his was the most wonderful tenor I ever heard."