Enrico Caruso (25/02/1873 - 02/08/1921)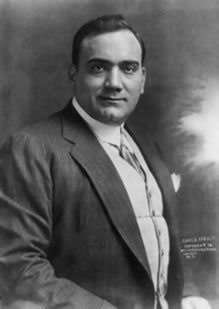 "You don't have a voice" - "It's like gold at the bottom of the Tiber ... not worth digging for", a famous Neapolitan singing teacher said about Caruso's voice in 1892.
A decade later the voice of Enrico Caruso was celebrated as "The Golden Voice of The Century." In fairness it should be mentioned, though, that Caruso in the meantime had "found" his voice, partly with the help of this same teacher, Maestro Guglielmo Vergine.
Caruso's international fame started when he was given the role of Count Loris Ipanov in the first performance of Giordano's opera Fedora i 1898. During the following seasons he sang in St. Petersburg, Moscow, Buenos Aires, Milan, Monte Carlo and London. Arturo Toscanini conducted Puccini's La Bohéme when Caruso had his debut in 1898 at the famous Teatro alla Scala in Milan. After Caruso had turned an initial cool reception by the demanding La Scale audience of the performance of Donizetti's opera L'elisir d'amore into a tempest of applause, Toscanini came back stage to go before the curtain with the artists. He embraced Caruso, then turned to the manager of La Scala, Giulio Gatti-Casazza, and said: "Per dio! Se questo Napoletano continua a cantare così, farà parlare di sè il mondo intero." (By Heaven! If this Neapolitan continues to sing like this, he will make the whole world talk about him.) Not an empty promise...
On a sunny spring day - the 11th of April 1902 - Caruso walked into the lobby of the Grand Hotel in Milan to meet Fred Gaisberg of the Gramophone Company in London. In two hours 10 songs were recorded in one of the hotel suites and Caruso walked out with a cheque for 100 £ - and the world of music would never be the same.
These first recordings were released shortly after Caruso made his debut in Covent Garden in London and would go on to sell over 1 million copies.
Click above to listen to:
"Tarantella sincera"
(Song in Italian - De Crescenzo, Vincenzo)
• Recorded 19-01-1912 •
... MODERN ORCHESTRATION ...
More information here
Random Quote (view all here)
Italian teenager commenting on YouTube:
"I've tried to listen to other tenors and THEY are really feeling the songs ..... Caruso is different, he's something special because he makes YOU feel the song."